Having a golden faux glow in summer is a must, but it's not fun when you end up looking more like "tandoori chicken" than nicely tanned. We all make mistakes – maybe you applied the tan unevenly and got streaks on your face, forgot to clean your hands and nails after tanning at home, or you're trying to make your spray tan last longer without looking patchy. No worries, there are various ways to remove fake tan from face immediately.
People have been faking a summer tan for a long time, dating back to the 1920s when bronzed skin from the sun became trendy. During WWII, women even used teabags to give themselves a bronzed look.
In the late 1950s, the first self-tan product called 'Man Tan' containing DHA was introduced. DHA reacts with the skin's amino acids to create a browning effect, and it is still used in most tanning products today.
As the dangers of sun tanning became more apparent, the popularity of self-tanning products increased. Over the following decades, these formulas improved to be more natural-looking, faster to apply, less smelly, and quicker to take effect.
What are the Reasons for Wanting to Remove Fake Tan?
Fake tan is undoubtedly a fantastic invention that protects the skin from premature aging and melanoma. However, mistakes can still occur, no matter how advanced the product is. So, sometimes, you might need a quick and effective way to remove your tan in an emergency.
1. Adjust the Color Hue
Not all fake tans are the same, and the shades can vary significantly. The color that seemed like a perfect match on the bottle might turn out to be muddy, dirty, too dark, or even orange after it develops, requiring a quick solution.
2. Fix Uneven Facial Application
Even if you apply the tanning product carefully, getting a smooth finish can still be tricky during a DIY tan job, especially if the product lacks a tint to indicate where you've already applied it. This becomes more challenging when reaching difficult spots like your back.
3. Tanning Effects Wearing Off
Even if you get a professionally applied spray tan, as it naturally wears off, you may still experience patchy areas. Human outer skin cells shed every 5 to 10 days, and unfortunately, they don't shed evenly. So, even with the best faux glow, you might end up with noticeable flaky spots.
4. Uneven Color on Face and Hands, elbows, knees, and ankles
When you use self-tan, it sticks to dry patches and dead skin, commonly found on elbows, hands, knees, and ankles. Even if you exfoliate as directed before tanning, focusing on these areas, there's still a chance of product build-up that you might need to remove before going to the beach.
How to Remove Fake Tan from Face Immediately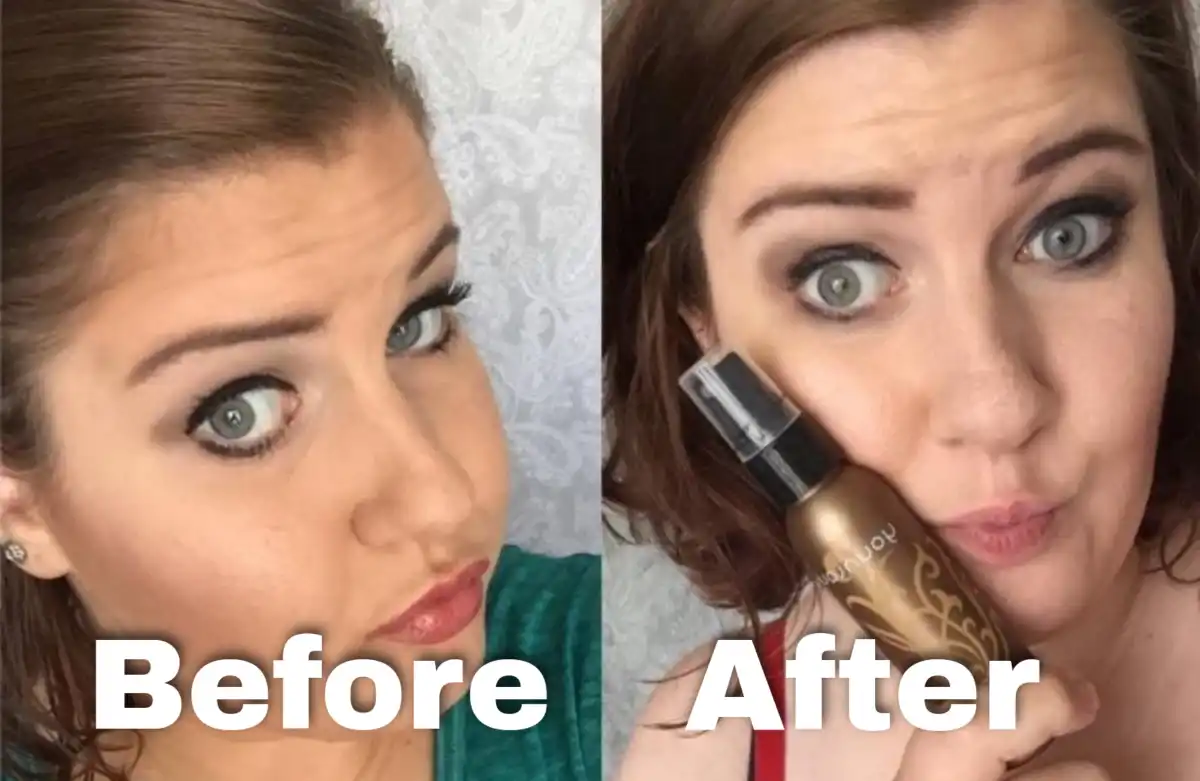 1. Remove Tan with Oil
Before starting the exfoliation process to remove your fake facial tan, let your skin soak in oil for the best results. You can apply baby oil, coconut oil, or olive oil to your over-tanned face and allow it to absorb for at least half an hour.
Then, gently exfoliate your skin in the shower. The oil will have loosened the dead skin cells that have absorbed an excessive amount of color.
2. Chux Magic Eraser
This beauty hack may come as a surprise, but it's highly recommended by many industry experts. If self-tanning has left you with orange blotches, lightly rub or dab a damp Chux Magic Eraser on the affected areas. No need to scrub aggressively or panic – a gentle rub is sufficient to immediately remove the fake tan from your face.
3. Uses Toothpaste for Tan Removal
It might sound strange, but this method really does work! Grab an old toothbrush and some whitening toothpaste, then scrub between your fingers and toes. Let the toothpaste sit for 15 to 30 minutes, and it will do the work to erase those stains.
4. Use Steam to Rid Fake Tan from Face
A steam room, like the ones at your gym, can be a way to get rid of tan stains. Spend around 30 minutes in the steam room after your workout, allowing the heat and humidity to soften the tan on your face.
Upon exiting the steam room, use a wet towel to gently rub your skin in circular motions. This will help to loosen the tan and provide a deep exfoliation.
5. Exfoliate Your Face
Experts suggest that good physical exfoliation, whether using a mitt or body polish, is beneficial for removing tan build-up. Always remember to be gentle while scrubbing to avoid skin irritation. After soaking in oil, exfoliating is an excellent next step, as it aids in breaking down the tan, making it easier to remove without having to scrub too forcefully.
6. Get Rid of Fake Tan with Baking Soda
Baking soda is a highly effective method to instantly remove fake tan from your face. Just mix about 2 tablespoons of baking soda with a bit of water or coconut oil to make a paste. Apply this mixture over your tanned face, let it sit for a few minutes, and then rinse it off.
For an even more effective mixture, add dishwashing liquid when cleaning your nails and hands. Mix equal parts of baking soda and dish soap, stir it into a paste, and scrub it onto your skin using a loofah or nail brush.
Some stubborn stains might require extra scrubbing. But keep in mind, dishwashing liquid can dry out your skin, so remember to apply hand cream afterward.
7. Lemon Juice Can Remove Face Tan
You can use lemon juice to remove fake tan in a few ways, but before trying any method, make sure to test it on a small patch of skin to check for any irritation.
The common method includes squeezing some lemon juice onto a clean fake tan mitt or a hand towel, adding a little water, and then microwaving it for about 2 minutes.
Let it cool a bit, and then gently rub it over your face. The warmth from the lemon juice activates the alpha hydroxy acids in the tan, helping it fade away from your face.
8. Use a Clay Mask
Sometimes, you might find yourself in a pretty nightmarish situation: having an uneven tan all over your face. It's like becoming "The One With Ross's Tan" from the TV show Friends. But don't worry, there's a simple solution.
You need to use a body clay mask, typically priced around $29. The mask will draw out impurities and help fade the unwanted tan. Of course, how quickly it works depends on how long you've had the tan, but it's worth a try.
If you have a muddy or wrong-colored tan on your face, try the simple remedy – pour some fresh lemon juice into a hot bath and soak in it. Lemon juice is a natural bleach, and the hot water will help your face skin shed the tan immediately. After the bath, exfoliate your skin to ensure an even result.
9. Remove Facial Tan Using Vinegar
Whether you have apple cider vinegar or regular white vinegar at hand, both can help remove patches of fake tan effectively. To lighten dark areas, simply take a cotton ball, dab some vinegar on the spots you want to treat, and let it sit for a minute or two. Lastly, rinse it off, and you should see the tan dissolve away ASAP.
10. Go Swimming
After swimming in a pool, the chlorine can do two things to your skin – it can act as a bleaching agent and also gently scrub away fake tan. Make sure to take a shower after swimming and do a light exfoliation for the tan on your face to fade away immediately. This way, you can prevent any patchiness and maintain a smooth look.
11. Expert Solutions for the removal of Fake tan
You have many options to remove fake tan from face immediately, but the beauty industry also offers a wide range of products for this purpose. People are loving how effortlessly tan removal products remove tan from their face, even in stubborn spots.
Tanning removal products have even become a must-have. You just have to leave the product on your face for about 10-15 minutes (or as recommended by the manufacturer), then hop into a warm shower and wash it away with a washcloth. The tan comes off your face instantly, leaving a smooth base for the next time they decide to use tanner.
12. Moisturize Your Face Ahead of Time
Getting a bad tan on your face is easy to spot, and the major giveaway is when the tan isn't properly blended around the other parts for your body such as fingers, ankles, elbows, knuckles, and nails.
Before you apply the tan, make sure to moisturize your face well. These spots are like sponges, so keeping them hydrated and protected will give you a smoother and more even tan.
Read also: How to Make a Fake Tattoo Last Longer