After you purchase a motorcycle, one of the first questions you might find yourself asking is: how do I protect my motorcycle tank from scratches? The answer, thankfully, is simple: motorcycle tank pads. Now, what are motorcycle tank pads for?
These are often one of the first accessories that people purchase for their new bikes. But what are they and do you really need them?
Put simply, tank pads protect your bike from scratches and scuffs, while also providing enhanced grip for riders. They can help you to keep your bike in pristine condition – while keeping yourself in place. Depending on who you ask, they are also called tank protectors or tank grips (though some may argue that they aren't necessarily synonyms – because of the placement of each product).
They are also incredibly easy to install – which we'll get into later.
In this post, we'll answer the following questions:
What are the benefits of tank grips?
Are tank protectors worth it?
Do tank pads damage paint?
Do racers use tank grips?
What are the best motorcycle tank pads?
How do you install a tank protector?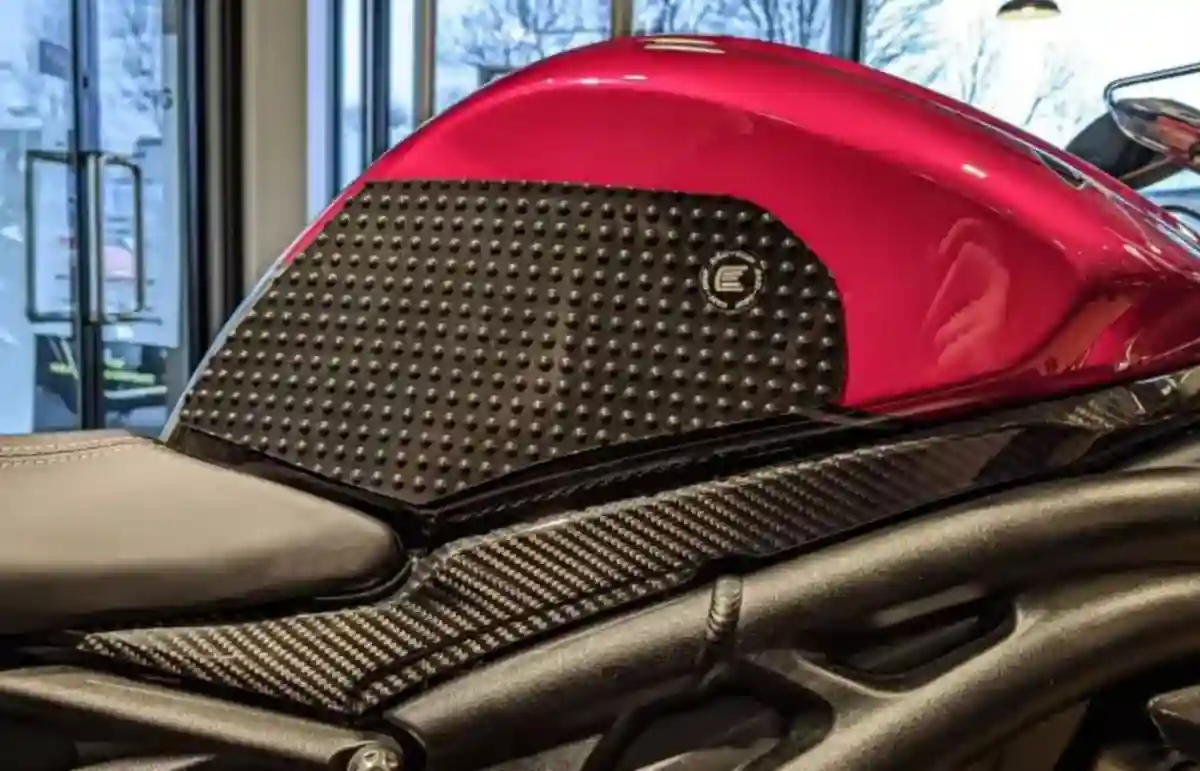 What Are Motorcycle Tank Pads For?
As we mentioned, one of the primary reasons that you might add a tank guard is to protect your bike from scuff marks and scratches from your belt buckle, zipper, etc. Think of them as an easy way to get increased protection for both yourself and your motorcycle. Top brands like Eazi-Grip provide these for their sponsored riders because of how straightforward and functional they are to use and install.
That aside, they can also seriously enhance your riding experience. There's a common misconception that these are only for racers – this is not true. For example, imagine when you have to brake hard. Gripping onto a slippery waxed tank is not a good time – and certainly not the safest way to ride.
Instead, tank guards give you the confidence to ride through more challenging situations. They allow your body to stay in the proper position, taking some of the weight off your wrists and feet. This happens because they allow you to grip the tank with your knees.
Are Tank Protectors Worth It?
Yes. Aside from the aforementioned benefits to your riding experience, primarily by allowing you to focus on everything except body positioning, they help you to maintain the condition of your bike. And though they come in many different models, they all have one thing in common: they are a great way to provide extra protection and enhance your performance as a rider in an affordable manner.
The fuel tank is one of the biggest areas your body will tend to interact with. Your knees will rub the sides and sometimes your torso will rub the top. But with tank guards, you can protect these areas; while also of course enjoying better body position thanks to improved friction points.
Add in that they are generally quite straightforward to install and readily available, and there's no real reason to skip them. Plus, they are definitely one of the more wallet-friendly upgrades that you can make to your bike.
Do Tank Pads Damage Paint?
Generally speaking, no. However, always be sure to follow manufacturers specifications when installing your tank guards.
It's also important to consider the quality of your bike's original paintwork. If it's an older model or the paintwork was poor from the start, you may be more likely to see paint damage. If you decide to remove your tank pads, that is the moment when you are most likely to see damage (if at all).
If you currently have tank pads on your bike and you're concerned about potential damage, feel free to contact the product manufacturer. They will be happy to give you tips to help you safely remove your pads with minimal risk.
Do Racers Use Tank Grips?
Yes. From British Superbikes to MotoAmerica, pretty much all racing bikes have tank grips – and in many cases, their riders won't ride without them. Their primary purpose for racers is to allow for better hanging off the bike as well as an enhanced braking experience.
Race riders may be going pretty fast and for a purpose, but the concept remains the same on the street: get more control and grip over your bike in an easy and effective manner.
What Are the Best Motorcycle Tank Pads?
Now, here is the big question. With so many options on the market, it can be hard to know which tank pads are best for your situation.
For the majority of riders out there, you should get ones like the Eazi-Grip tank pads. They come in two primary styles:
Their silicone offering is a better choice for most street riders and ADV riders. Because you tend to stand up more straight on these types of rides, there's less of a need for so much friction. In fact, in some cases, you might find that some tank pads almost offer too much friction – so be sure to keep this in mind when evaluating each product.
When it comes time to purchase, be sure to get the universal center tank pad, as well as the bike-specific tank grips. These two items can be a simple way to protect your bike and give yourself that extra bit of traction.
Each collection is developed to have a design that provides the perfect amount of additional contact while also giving your motorcycle the stylish protection it needs. These don't come in a ton of colors, but instead can be purchased in clear and in black.
If racing is your preference, you could always go for Pro offerings as part of your search. As you might expect, these are much grippier – making them perfect for the hard braking and turning that race riding is associated with. These are what sponsored race riders use.
How Do You Install a Tank Protector?
Thankfully, the process is pretty simple. Generally speaking, these are the steps that you can follow when installing tank guards or tank grips:
Clean the bike and tank area with an alcohol swab; usually enclosed with your purchase.
Heat up the tank area as well as the guards using a hair dryer or other heat source. Be careful if you choose to use a heat gun for this as it can get quite hot.
Apply the pads in the desired areas.
Then apply heat again to help you get rid of any bubbles.
Repeat for the other side.
Fill in the holes in the tank pads with the enclosed buttons.
Want to see it happening in action? Check out this video on how to install tank grips:
Next Steps: Buying and Installing Your Motorcycle Tank Pads
Tank pad provides incredible value for a relatively low cost – including installation. They can noticeably improve your riding experience while also ensuring that your bike stays in the most pristine condition possible. You can shop for them online or visit your local store. You'd find a wide selection of tank grips from Eazi-Grip and many other top brands.
Before you get tank pads and tank grips to be installed in your bike, you want one that suits your models. At least, that will make installations easier.
If you don't see your model listed on the manufacturer's website, don't hesitate to get in touch because a suitable model for your bike makes the perfect installation. They will be happy to make a recommendation based on your bike and riding needs. The same goes for the installation – most manufacturers have been installing tank pads on many different types of bikes and pads, so don't be afraid to put that expertise to work for you.
Read also: Best Helmet for Motorcycle Passenger