Tinder, with its swiping feature, has revolutionized the way we connect with potential partners. One of the intriguing aspects of Tinder is the mystery of getting to see who liked you on Tinder without paying. While Tinder Gold and Tinder Platinum premium subscriptions offer this feature among many others, not everyone is willing to shell out $24.99 to $29.99 a month just to see who has swiped right on them. But what if there was a way to see those likes without a premium subscription?
Want to know who likes you on Tinder without paying? Tinder is a popular dating app where people look for love or fun. Sometimes, you can't see who liked your profile unless you pay. If you're curious about how to see those likes for free, keep reading.
Lots of people want to know who liked their profile, whether they got many matches or just a few. If you don't want to pay for Tinder Gold to do this, no need to stress. I have got a trick that will help you see your likes for free.
How to See Who Liked You on Tinder Without Paying
Who says this is not possible? Let's see—follow these steps to see who liked you on Tinder without paying:
New Method
Here are the steps from the video titled "How To See Who Liked You On Tinder Without Gold":
Install the "Violentmonkey" extension on Chrome

Search for "Violent Monkey" on Chrome.
Go to the site and confirm the installation.
Once installed, click on the extensions tab and select "Violent Monkey".

Access the settings of "Violent Monkey"

Click on "Settings".
On the settings page, click on "New".
Choose "Install from URL".

Add the script URL

Enter the URL: bit.ly/scriptTinder2022.
Click "OK".
Confirm the installation of the script. It will read "This script has been installed".

Go to Tinder to see who likes you

If you have matches, they should appear once you refresh Tinder.
This method might not work for everyone and I encourage you to comment if it works for you.
If you would need a video guide on how to see who liked you on Tinder without paying, here is one for you:
Old Method
Go to Tinder on your computer. Follow these steps – first, log in to Tinder using your web browser, preferably Google Chrome.
After signing in, you'll see a list of people who could be your matches.
On this page, Tinder displays a section with all the matches that liked you. But these profiles are blurry and won't show unless you have a Gold membership. But you're interested in seeing them for free, correct? Let's get a little hacky.
Now, right-click the blur picture and pick 'inspect' or 'inspect element', depending on your browser.
When you click, a new box pops up with lots of jumbled code. Don't stress about all the code. In all that code, you need to spot the word 'filter:blur(12px)'. Just change 12px to 1px. Or you can delete the word 'blur' and hit the Enter key.
Now, the blurry photo should become clear. Do this for all the other profiles too. The only drawback is that you can only do this for the first 10 profiles, but hey, it's free.
Remember, the pictures will be a bit fuzzy and not very clear. Just know that you can only view their photo and name. You can't go to their profile or match with them using this method. To do that, you'd still need to get Tinder Gold. If you're really interested in someone, you might think about getting them.
Alternative Way to See Who Liked You on Tinder Without Paying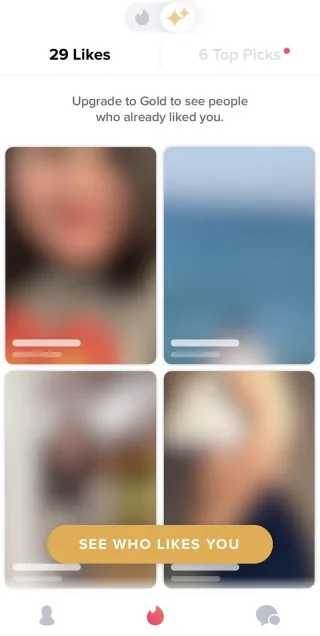 Another trick to find out who liked your Tinder profile without paying is by using the "Secret Admirer" card. This card is only given to you if you have more than 4 likes from people near you. Once you have enough likes, Tinder will display the Secret Admirer card in the app. When you tap on it, a screen with 4 question marks will appear.
Each question mark hides a secret profile that likes you. Tap a card to uncover the profile (your secret admirer). If you like the profile, it's an instant match. If not, you can swipe left.
Honestly, this feature encourages you to get a Tinder Gold or Tinder Platinum subscription. After you enjoy seeing your likes and matches, you will likely want to sign up for Gold. You will only see this feature once a week.
Why Do You Need Tinder Gold?
Even if you use the method mentioned above to see who liked you on Tinder without paying, there are still downsides. For example, you cannot view their profile or match with them.
To access these features, you will need a Tinder Gold or Platinum account. Any of these accounts will allow you to enjoy other benefits such as unlimited likes, 5 super likes daily, 1 boost each month, a rewind option, no ads, and more. These extras are definitely worth the cost, as they can also help you get more matches.
Conclusion
While Tinder Gold gives you many advantages, there might be times when the cost does not seem worth it. In those situations, you can use smart tricks to work around the limits and save money. Although these hacks can help you overcome some restrictions, it's still a better idea to invest in their premium subscription to fully utilize their services.
There are lots of reasons to get a Tinder account. One is that it boosts your confidence when you see many people liking your profile and hoping you'll like them too. This only happens with a Tinder Gold account. Having Tinder Gold also saves you a bunch of time. We're all busy, and we don't want to waste time wondering who likes us. Tinder even says Gold subscribers get 60% more matches than regular users. So, don't wait – start swiping, and good luck.
Update
This trick works for some Tinder users, while others say it no longer works. The only way to find out is by giving it a try yourself.
Read also: How to Track a Fake Tinder Account