Generally, if you want to watch YouTube videos meant for adults only, the easiest method is to make a new Google account to bypass age verification. Your new sign-up information must state that you are 18 or older. But in case you can't or don't want to create an account, some tools can help you bypass the age restrictions temporarily.
In this article, you will be guided on how to access and watch age-restricted videos with and without signing in.
Summary
To watch adult YouTube videos without age verification, use a grown-up Google account. If you're in the USA or using a VPN server from there, no age verification will be needed when making a new account.
To enjoy videos without restrictions, download them to your computer first.
If you have an 18+ YouTube account but still face problems, check if the app's content restrictions or restricted mode is turned on and switch it off.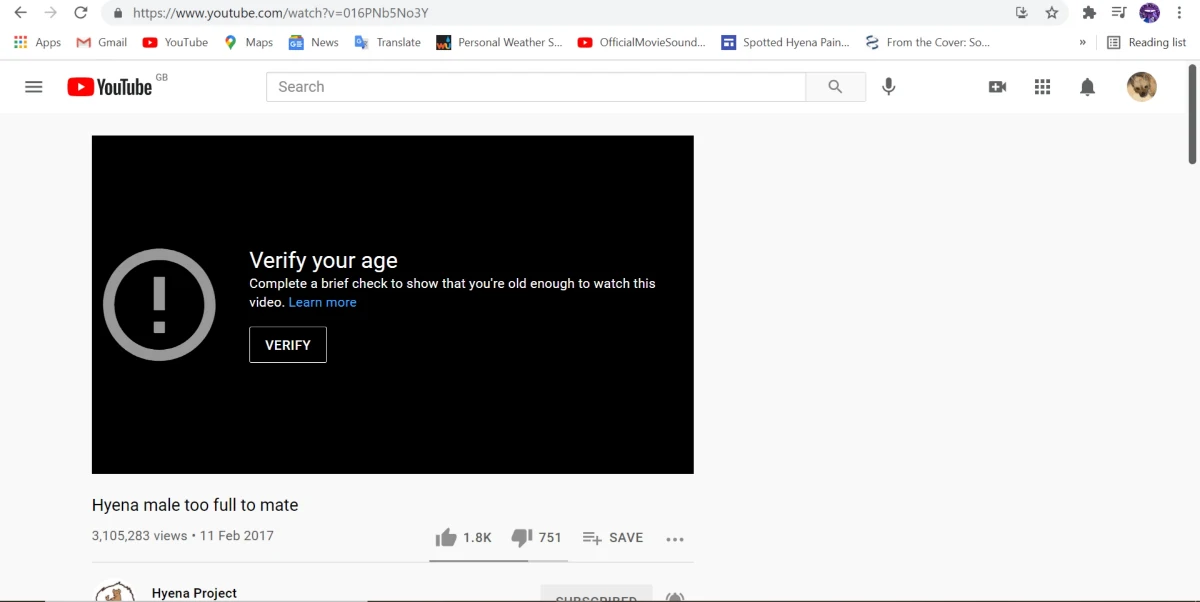 1. Make an Account with Fake Age
The easiest way to bypass age verification is to use an adult Google account. Whether your current YouTube account is under 18 or you prefer to watch videos anonymously without using your main account, creating a new Google/YouTube account is the simplest solution.
You can make as many accounts as you need, and if you live in the US, you can sign up with any name and age you want.
If you're in the United States, you won't need to show an ID to verify your age. But in some countries, creating Google accounts has stricter age rules.
If you're making a new account in Europe or another region with age restrictions, they might ask you to prove your age with a credit card or government ID. However, you can avoid this by signing up using a US-based IP address with a VPN (a free trial will work) or with the Tor web browser.
If you're using a computer, phone, or tablet with parental restrictions that prevent you from creating a new Google account, don't worry! You can easily do it from any other device, like another computer, phone, or tablet. Just switch to a different device to create your Google account hassle-free.
2. Use an Alternative App
Several alternative applications to YouTube do not enforce age verification. These include:
Invidious
Piped
Freetube
Newpipe
Skytube
These applications provide access to YouTube content without requiring age verification. For instance, NewPipe, an open-source application available on F-Droid, offers better gesture-based controls, free background listening, and video downloading.
3. Install TamperMonkey Browser Extension and a Greasyfork Script
Want to watch videos with age restrictions without signing in? You can do that! Just follow these steps:
Install the TamperMonkey extension on your Chrome browser.
Get the Simple YouTube Age Restriction Bypass script from this link: [Script Link].
Once installed, you'll be able to bypass age verification and watch age-restricted videos on YouTube or any platform.
This will help you bypass the restriction by automatically redirecting your internet traffic through a private proxy server.
4. Browse with a Proxy Service
Proxy websites redirect the video through a server with no restrictions. But be careful when using these services.
If you worry about privacy, find a proxy that encrypts your traffic so your viewing remains private. This way, you can watch age-restricted and blocked content without signing in.
Certain services like NordVPN, ProxySite, and Stop Censoring Me provide encrypted proxies. Many of these services are available for free to use. In most cases, you just need to go to the proxy website and copy the YouTube video's URL. Then, paste it into the text box on the website. But remember, VPNs may not always work for YouTube.
5. Use the 'NSFW YouTube' method with caution.
Watch certain YouTube videos by adding "NSFW" to the URL. Just add the letters "NSFW" before "youtube" in the video's web address. For example, change "youtube.com" to "nsfwyoutube.com". You'll be able to watch the video without restrictions. However, be cautious when using this method.
You need to be careful with websites like NSFWYouTube; they might show annoying popup ads or attempt to install harmful software on your computer. The solution is to install an adblocker and security software on your device.
This trick may not work for all age-restricted videos. If it doesn't, you can try replacing "youtube.com" in the URL with "listenonrepeat.com" instead. However, keep in mind that this method might not always be reliable.
6. Disable Content Restrictions on YouTube
You need to be signed in to your account. If you have an 18+ Google account but still can't view age-restricted videos, it's likely that Restricted Mode is enabled. To watch all content on YouTube without restrictions, follow these steps:
If you're using a mobile device like an iPhone, iPad, or Android, just open the YouTube app, log in (if you haven't already) > tap your profile picture > go to Settings > General, and toggle the Restricted Mode on or off.
If you are on a desktop computer, go to https://www.youtube.com, sign in if you haven't, click your profile picture in the top right corner, then select Restricted Mode at the bottom of the screen. Finally, click the box that opens up to turn Restricted Mode on or off.
7. Get the Video Downloaded to Your Device
If you want to bypass age verification and watch age-restricted videos offline, there are a few options available. Many popular downloaders no longer work with YouTube's age restrictions. However, you can try using AceThinker Video Keeper, a free desktop application, or 4K Video Downloader, a subscription-based app for desktop and Android devices.
Some downloaders, like 4K Video Downloader, get around age restrictions by having you log in through the app instead of directly on the YouTube website.
So, you'll still need an 18+ Google account to download the content. Once you have the video, you can watch it anytime without limitations.
Methods that Do Not Work
It's getting tougher to bypass content restrictions on a site like YouTube. There's a bunch of outdated information online about this topic. Also, the following methods don't work in bypassing age verification:
Changing the "watch?v=" in the video URL to "embed/".
Using third-party clients like NewPipe, FreeTube, VLC Media Player, or Invidious.
Downloading age-restricted videos to your device (though some downloaders may still work, they are becoming less reliable).
Conclusion
Be careful with certain methods to bypass age restrictions. For instance, some free proxy servers can jeopardize your personal data. If you can, it's better to use a reliable paid VPN with an encrypted proxy service.
Also, exercise caution when watching YouTube videos through third-party websites or downloadable clients. Make sure to have good security software installed and do thorough research on any website or app before using it.
Read also: How to Fake Selfie Verification Online