There are so many reasons someone will need a fake transcript. It could be to temporarily replace a lost transcript or ordinarily make a framed copy to remind yourself about your school days. You can also make a fake transcript to present as a gift to a recent high school or college graduate.
Whatever the case, it's not wrong to fake a transcript, as long as you do not use it for work or school. Let's say you needed a phony transcript for a keepsake; you would not want to trouble your school about it and have to wait for 2-3 weeks to get a copy. Also, you might want to do away with plans to make a fake transcript for work or school—some employers or colleges independently verify the transcripts from the school's registrar, typically using the mail. Digital transcripts may be verified by trusted services such as the National Student Clearinghouse and Credentials Inc. or Parchment.
How to Make a Fake Transcript [Paid and Free Options]
A college transcript outlines your academic performance at high school or college. It shows the cumulative grade point average (GPA), courses, credit hours, major(s), minor(s), year awarded, and other academic information, depending on your institution. You typically need the transcripts to transfer to another institution, apply for a scholarship, or get a new job, to name a few.
How about getting a fake high school or college transcript? This may be necessary if you misplace your original copy or need one as a gift for a grad. That said, below are the steps to make a fake transcript for college or high school:
1. Choose Your Transcript Maker
First, you need a fake transcript generator or maker. There are many online, either free or paid. The free ones are often fillable templates you can print out. Whereas, the paid ones will be designed with custom materials and shipped to you. A transcript that looks real typically comes with a signature, original seal, font type and size, and other features you would find on a real college transcript. Additional features to look out for include:
Embossed gold foil seals as found on originals
Paper quality
General paper detail, including font size and type
The best way to make a fake transcript is to obtain a copy of an original transcript from any college or university you want to replicate. The maker will then create a replica of that copy for you.
2. Pick a Transcript Template
On the transcript generator page, most will allow you to browse through the catalog of editable transcript templates. Alternatively, you can send them a real copy to be replicated. The transcript template needs to contain fillable fields for the name of the college, student name, logo, GPA, and more. Do not worry; I have included the best tools to use to fake college transcripts or those of high school. The fake credential designer needs to know the type of transcript you need—do you need it for high school or college?
Meanwhile, after selecting your fake transcript provider, make sure they email you a digital copy before printing. Go through the transcripts carefully before approval for printing and shipping.
3. Decide your qualification
Remember to enter a qualification type for the transcript—it could be a Bachelor, Master, Associate, Ph.D., or J.D. transcript (for a fake college/university transcript). For example, the qualifications on a bachelor's transcript can be a Bachelor of Arts or a Bachelor of Science. For a Masters transcript, you will have something like a Master of Arts or a Master of Science. Note that this will only apply to fake college transcripts and not those from high school.
4. List the Coursework for the Fake Transcript
You will need a year-by-year listing of the subjects and materials you studied. Include any courses or classes taken at your local high school or college (as applicable). Suppose you completed high school-level material such as algebra I or biology before high school. You can include a section for 8th grade or even 7th grade in the list.
If you do not know the correct coursework, you can check your state's requirements (for high school). Some states have specific requirements for homeschooled students. Look for the number of credits and courses to complete in each subject in high school. If your state has no homeschool-specific requirements, set your transcript to meet the requirements for public school graduation.
5. Fill Out the Fake Transcript Template
You will use the online transcript maker you choose to fill in the information. The website would already have a unique high school transcript template for you, or you could request a specific design. You may have to send a scanned copy to be replicated by the website's template editors.
Make sure to calculate the GPA correctly. First, assign the grades to each of the courses before you can calculate your student's GPA. Ensure to assign fair grades. When you have the letter grades (A, B, C, etc.), calculate the student's GPA. The fake transcript tool you use will offer a template or service that automatically handles the calculations.
6. Pay for the Fake School Transcript
After filling out the fake school transcript template, complete payment on the website. You will have the option to review the fake transcript before it is printed and shipped. Usually, you receive a digital copy at your registered email address.
Do not use any website that requires BTC. PayPal payments are preferable. Websites that require cryptocurrency as a payment option are usually not reliable. PayPal is often a safer payment method.
Fake Transcript Generator
High school guidance counselors or administrators may use a transcript template to create official transcripts for their students. Parents or guardians may also find a high school transcript template useful for keeping track of their child's academic progress throughout high school.
1. Validgrad Transcript Maker
So, if you are looking to make fake high school transcripts or college transcripts, consider using the Validgrad generator. I have used this tool to create replacement transcripts for both colleges and high schools. You just need to enter your details, including student name, degree type, major, university name, and grades.
Validgrad comes with customization options. You can also choose from different templates and add specific information to make your fake transcript look real. Need to make a fake transcript that works? Follow these steps:
On ValidGrad's Transcript Generator, you will select the style of transcript you want to create, whether it's for high school or college.
Fill out the required fields such as Degree Type, Major, Student Name, University Name, and other relevant details.
Enter specific course details, grades, and other academic information according to your requirements.
Add custom signatures to make the fake college transcript or high school transcript look real.
When done, take some time to review all your information. Make sure it is accurate and then generate the transcript.
You can download the fake transcript or print it as needed.
---
2. NextDay
Transcripts
So, I also stumbled on a tool called Next Day Diplomas. You need this too to create replicas or fake transcripts for college, university, high school, or GED. You can tell that the transcripts are designed based on real school designs. If you need to order a copy, it will be printed on real transcript security paper with authentic anti-copying technology. However, the fake college transcripts and fake high school transcripts are each priced at $98.00. If this fee is not a problem for you, follow these steps to make your copy:
On the NextDay transcript maker, select the Type of Transcript, i.e., choose whether you want a college or high school transcript.
Specify coursework or degree. The transcripts contain classes appropriate to the degree or coursework you specify.
Once you have selected and specified your requirements, you can place an order on the website.
Regarding the payment, you are to pay the specified amount for the selected transcript. The listed price is $98.00 for both college and high school transcripts.
After a successful payment process and order, you will receive the fake transcript in your location. When the fake transcripts are ready to be shipped, you will get free shipping without any additional costs. So, the fee you pay is one-time.
---
3. Phony Diploma Buy Fake High School And College Transcripts
For this tool, there are two methods for creating transcripts that resemble the real ones: (1) reproduction of actual designs from a scan provided by the customer and (2) using this tool's realistic house-design fake transcripts template. With this tool, you can make a fake high school transcript that is customizable with your school's name, logo, GPA, classes, and more. If you make an order, the transcripts will come printed on high-quality paper with security features. If needed, you can request actual school logos, watermarks, seals, stamps, and signatures.
Choose the type of transcript, whether you want a high school or college transcript.
If you have a scan of the actual design, provide it for reproduction. Alternatively, customize the "house-design" template with your details.
Include the school's name, logo, your name, GPA, classes, and other details.
Choose your preferred GPA and the class grades will be adjusted accordingly.
Select the month and year of graduation. May is recommended for college and university, and June for high schools.
If you need specific courses, upgrade to "Custom Courses" on the order form and adjust the standard courses to your interests.
Review all the details and confirm the order for printing and application of seals, stamps, emblems, and signatures.
---
4. DiplomaCompany
Fake Transcripts
Do you need a replacement diploma or a gift for a recent graduate? DiplonaCompany provides fake transcripts for GED, High School, and College levels with high-tech security paper, transcript keys, and holograms. You can also get free proofing services for design accuracy before shipping. The digital copies are available same-day but physical copies can take a day or two to get to you.
Select whether you want a GED, High School, or College transcript.
Choose the specific options available, such as the country and the type of institution (College, University).
Customize the transcript with real classes, grades, and markings, or request a custom list of classes.
Review the no-cost proofing for your custom-made fake transcript and request any changes if needed.
Pay for the service and choose your delivery option, with times as fast as 1 to 3 days, and receive same-day digital copies if needed.
---
5. Etsy Fake High School Transcript
On Etsy, you can buy handmade goods, vintage items, and craft supplies. This includes fake high school transcripts and fake college or university transcripts that look real.
Etsy market has a lot of fake transcript templates. These are mostly digital downloads that you can customize and print. Etsy provides user-friendly transcript templates. You can easily customize student details such as names, grades, and courses.
Note that you can get a fake transcript in different formats, including Word, Google Docs, and PDF, and some even come with GPA calculators. Prices for these templates differ, and some sellers also offer free shipping.
---
6. pdfFiller Free High School Transcript Template Form (Free)
You might be familiar with pdfFiller for templates. With pdfFiller, you can make a fake transcript for high school or college/university. pdfFiller lets you make a free fake transcript. However, you only get an editable template. If you have an existing PDF transcript, you can use this tool to edit it. On the link I provide below, you will be taken to an existing transcript template.
Follow the steps below to create a fake high school transcript for free:
Fill in your name, contact information, and student identification number.
Enter details about your high school, such as the school name, address, and graduation date.
List the courses you have taken throughout high school, specifying the course name, grade level, and the grade you received for each course.
Mention any honors or awards you have received, like being on the honor roll or receiving a scholarship.
Highlight any extracurricular activities or clubs you have participated in, especially any leadership roles or significant achievements.
You can optionally enter information about your participation in sports teams or athletic programs, including positions played and any notable accomplishments. When done, review your transcript before submitting it. You will get the PDF link in your email.
Meanwhile, if you need a realistic
fake USA college and university transcript, you can buy one from this realistic transcript maker.
Can You Make a Fake Transcript?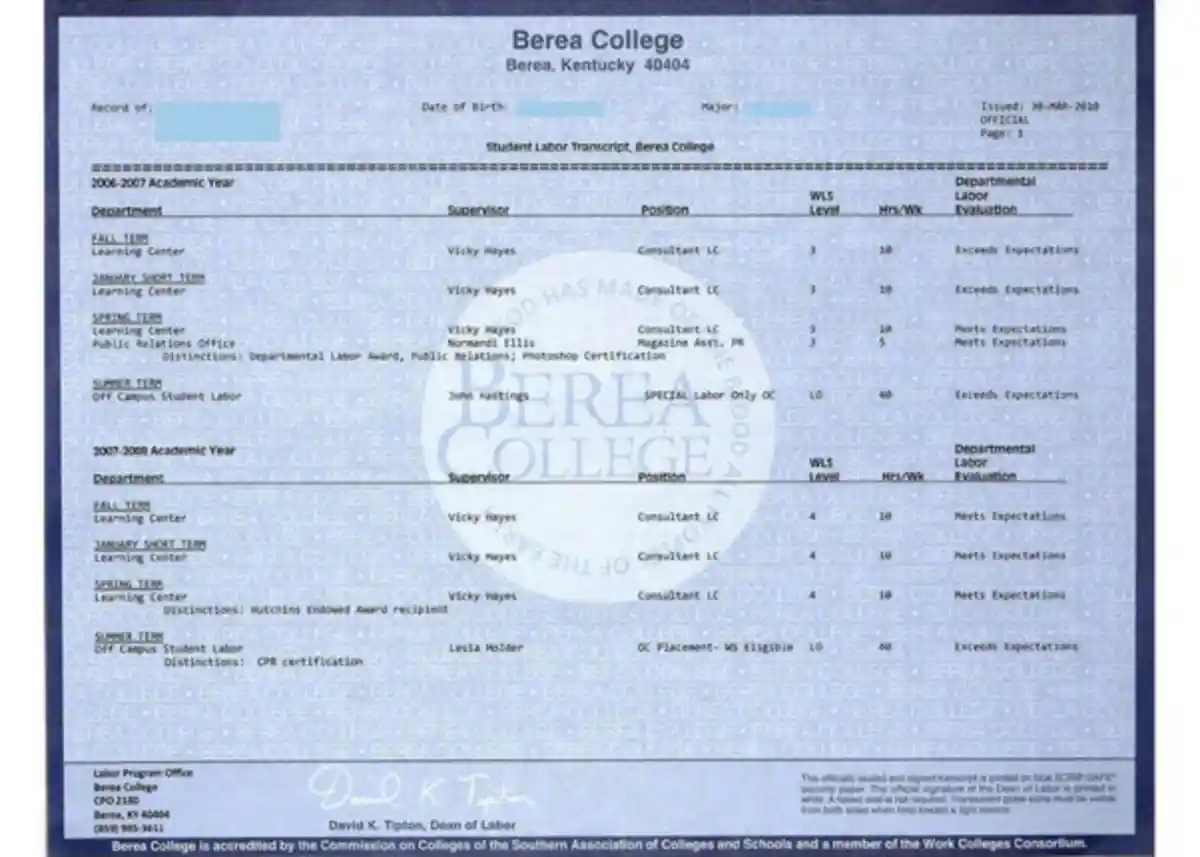 You can make a fake transcript if you lost your original copy and need a replacement ASAP. Also, you can make a fake transcript to give to a recent high school or college grad. It is not difficult to create a fake college transcript – you just need a template to make one. You can also buy a copy if you need an expert touch to make it look real.
There are even instances where some institutions collaborate with degree paper creators to issue such transcripts to students.
Printing a fake college transcript online is not illegal per se. However, using it for purposes like employment or any other activities that require a real university or high school transcript, especially when one hasn't attended college, is illegal.
All in all, if you need to make a fake transcript to use as a temporary replacement, for a keepsake, or to gift to a recent graduate, go ahead with the methods explained here. Do not make a fake copy to deceive an employer – it comes with consequences if you get caught. Usually, you lose the job.
Read Also