Accidents happen out of the blue and are usually good reasons for a sudden leave of absence, especially if there are serious injuries. So, if you need to make a car accident excuse for work, your boss could do with honesty. That means evidence will go a long way, especially if you are missing work without notification.
Whether or not a car accident is a good reason to miss work depends on several things, such as how bad the accident was, what your job entails, and your employer's rules. If you have been in a minor accident but feel fine enough to go to work, you might not need to take the day off. But if you were hurt or the accident was bad enough to keep you from doing your job, it could be a good reason to miss work.
Car Accident Excuse for Work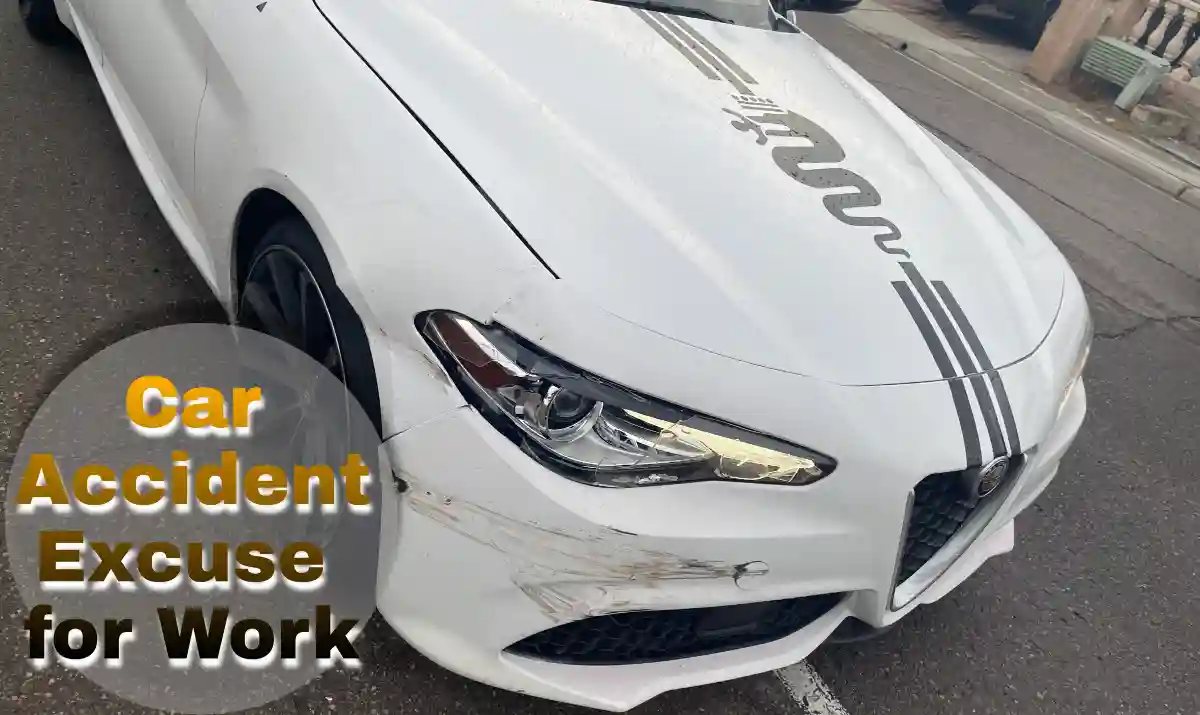 1. Assess Your Situation
Before anything else, ensure that you and anyone else involved in the accident are okay. If there are injuries, seek medical attention immediately. Take photos of the accident scene, the damage to your vehicle, and any injuries you might have sustained. This will be useful for both insurance purposes and as proof for your employer, if required.
2. Notify Your Employer
As soon as you are safe and have assessed the situation, contact your employer or supervisor and make the car accident excuse for work. Let them know as soon as possible, especially if you will be late or absent.
Explain what happened and be truthful about the situation. If you can, provide an estimate of how long you might be unavailable or late. This helps your employer make the necessary adjustments.
A car accident is a big deal, and your boss will want to hear about it. Inform them and mention when you might be back at work. It's a good plan to call, and you should also send a letter with:
The fact that you had an accident.
When and where the accident happened.
If you got hurt or not.
An idea of how long you think you'll be away from work.
If your injuries are serious and your job qualifies, you might be able to get FMLA leave. You can also ask for FMLA leave.
3. Write a Formal Email or Letter if Necessary
You might need a simple notification letter to back up your car accident excuse for work. This comes in handy if you cannot call your workplace.
Subject: Car Accident – [Your Name]

Dear [Employer's Name/Manager's Name],

I hope this message finds you well. I write to inform you that I was involved in a car accident today [specify the date]. Thankfully, I am not seriously injured, but I am shaken up and need to deal with the aftermath, including police reports, insurance claims, and potential medical check-ups.

I [will be late for work today/will not be able to come to work today/will need a day or two off to handle everything]. I understand the importance of my responsibilities and will ensure that my tasks are covered during my absence.

I will keep you updated on my situation and provide any necessary documentation if required. I apologize for any inconvenience and appreciate your understanding.

Thank you.

Warm regards,

[Your Name]
4. Provide Documentation (If Required)
If you sought medical attention, provide a doctor's note or medical report. If necessary, you can backdate the doctor's note.
Also, if the police were involved, you might have a police report that can serve as proof of the accident. Pictures of the accident scene or damages to your vehicle can also serve as evidence of a car accident excuse for work to your employer.
5. Keep Your Employer Updated
If your situation changes (e.g., you need more time off than initially thought), ensure you update your employer. When you are ready to return after your car accident excuse for work, inform your employer in advance. If there are any work restrictions due to injuries, communicate those as well. Once you are back, list down the tasks you missed and prioritize them.
When Should You Go Back to Work After a Car Accident?
So, after a car accident excuse for work, when should you return to work? Well, your decision will depend on your injuries and what your doctor advises.
After a car accident, it's normal to want to get back to work. Sometimes, you might not realize how bad your injuries are right away. Many times, people don't even see a doctor after an accident. They go back to work not because the doctor said so but because they worry about losing money and paying medical bills.
If someone is in a car accident, they might get hurt in a way that stops them from going back to work. After some accidents, it's hard to know how bad the injuries are. For example, with whiplash, the signs might not show up until a few days later, and the people involved might not realize they can't work.
What to Do After a Car Accident
1. Don't Leave the Accident Scene
If you have been involved in an accident, do not go away from the accident spot. Make sure you are in a safe place. Wait until the police say it's okay to leave.
2. Dial 911 for Injuries or Vehicle Damage
When you call the police, they will make a record of the accident. this is crucial if you decide to hire a lawyer to help you get compensation for missed work.
3. Collect Information from the Other Driver
Make sure to get the other driver's name, insurance information, and license plate details. Also, get a copy of their insurance company details.
4. Get Medical Care for Injuries
Call 911 or see a doctor right away if you were hurt in the accident. Do not wait, otherwise, you could be making insurance companies and others wonder how bad your injuries really are.
5. Collect evidence and submit an official report
Photograph the damage to your car, the other driver's car, any injuries you have, and the place where it happened. Also, try to get contact details from anyone who saw it.
Should I Go to Work After a Car Accident?
There are no strict rules for how long to stay away from work after an accident. However, returning too early can make your injury worse and impact your ability to get compensation for missed work due to the accident. You might be entitled to payment for the work you've missed, and returning too soon could affect that.
Your recovery time is not like a vacation; it's the time your body needs to heal. Even if you think you're fine and can go back to work, you might have injuries you can't feel yet.
That's why you need to see your doctor about your accident injury and follow their advice for your recovery.
Will Going Back to Work Affect My Injury Claim?
A car crash can harm your health and your ability to earn money. However, going back to work too early can also affect your legal claims.
If you want to get all the money you missed from work, you must take your recovery seriously.
If you ignore your doctor's advice and go back to work too early, it can show the insurance companies that you're not taking your recovery seriously.
The lawyers from your insurance company might review your claim, see that you've gone back to work, and think you don't need all the compensation you asked for.